Walter Gilgert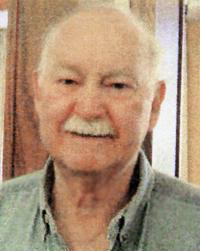 Walter Gilgert, Club President, 1959-1960
Walter John Gilgert, Jr. passed away on Sunday, March 21, 2010, with his daughters and grandchildren at his side. He was 88 years old. Walter was born "at an early age" at home in Stockton, Ca. on May 5, 1921, to his parents, Walter Sr. and Mabel (Morris) Gilgert. He was raised in the Stockton/Collegeville area with his brother Earl and sisters, Thelma and Bernice. After graduation from Stockton High School in 1938, he put himself through the University of California, Berkeley, obtaining a B.S. degree.
He enlisted in the US Navy after college attending officers training school. He as assigned to the USS Halford in the Pacific Theater. He was awarded a bronze star. His professional achievements included being an editor for The Sanger Herald in the early 1950's. He then became a stock broker opening up a brokerage house for Sutro and Company in the valley. He later worked for over three decades with E.F. Hutton in Fresno. The retirement years were filled with community volunteerism. He served on numerous county boards including The Fresno County Grand Jury, Friends of the Library, House of Hope and the Republican Central Committee, to name a few. Walter supported the Fresno State women's sports attending many womens softball and basketball games.
His passion was the Sanger Rotary Club for which he was a charter member and remained an active member until his death. He will be missed by his family and friends, and as a generous humanitarian in his community.
Donations may be made in his name to the Rotary Foundation, c/o Sanger Rotary Club, P.O. Box 22, Sanger, Ca. 93657. Also, a foundation is being formed through the CSUF Alumni Association in Walter's name to fund a nursing scholarship to further educational opportunities for those in need. WALLIN'S SANGER FUNERAL HOME 1524 9th Street Sanger, California (559)875-6555
Published by Fresno Bee from Mar. 24 to Mar. 25, 2010.