Rita Evans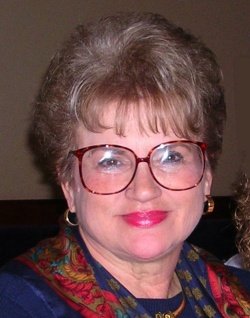 Rita Evans, Club President, 1995-1996
Sanger Rotarian Bob Kanagawa, who was District 522 Governor in 1974-1975 sponsored Rita Evans as a member of the Sanger Rotary Club in 1992. Women in Rotary was a new concept with their membership just being approved during the 1991-1992 Rotary Year. Rita was the second woman in the club and became one of the top Rotarians in the Club's history. It wasn't an easy transition as many of the "old timers" weren't happy about women in Rotary.
Rita became the club's first woman president during the 1995-1996 Rotary year. Due to the "resistance" Rita donned a bullet proof vest (lent by city manager and club member, Lee Drummond) during her first meeting as club president. The resulting humor did a lot to help break that traditional glass ceiling. The club sponsored Rita's trip to the Rotary International Conference in Nice, France. It was a "game changer" and awesome experience for the new president. Rita was on track to become a great Rotary Club President!
The annual District Conference was held at South Lake Tahoe. Rita represented the club and exited the conference, returning to Sanger Rotary with a great deal of pride and a lot of accolades for a "job well done". Under her leadership the club won every award for our size of club except for International Service due to not having an International project that year. The first award was for Vocational Services. Mike Hannigan was the Vocational Services Chair. Rita called Mike so excited and announced "We Won! We Won! Your leadership got us to the winner's circle! For Rita, that was a great phone call.
Then the awards just kept coming. The club received "Club of the Year" and Rita was named President of the Year! She was speechless, shocked and deeply honored and so proud of the Club for all it's hard work to get us to that level of recognition. We had three strong years of recognition at the district level; Joe Cole before Rita and Lee Delap following. Sanger Rotary done good!
As a Sanger Rotarian Rita:
• Served as an Assistant District Governor twice
• Served as an Area Representative several times
• Was a District Conference co-chair
• Chaired Club Assemblies, Vocational Service and Special Interest Seminars
• Served on a PETS team (Presidents Elect Training Seminar)
• Performed in the Pageant of the Sierras melodramas
• Chaired the COG team (new member assimilation)
• Sponsored Mike Hannigan in Sanger Rotary who later became a Past District Governor and Maureen Say who became a Club President.
• Is a multi-level Paul Harris fellow & benefactor
• Legacy: Senior Exit Interview Project – started in 1996 and continues today – bless you Rotary and SHS for carrying on the Tradition
Rita's legacy is sure to be the Senior Exit Interview Project she initiated in 1996 has continued to the present day.
Because of Rotary, Evans Blvd is noted on Google maps despite being Rita's driveway!
August Hioco, a past president of our club and Past District Governor worked for the city as the Parks and Recreation Director at the time. He arranged an off-site Vocational Service tour of the new water treatment plant. At the end of that meeting August presented Rita with an official blue street sign for her driveway. Rita's husband installed it and it proudly reads "Evans Blvd". However, Google maps decided to name a 'lane' about a mile away from her ranch on MacDonough. Yep, Evans Blvd is official according to Google maps.
Rita has so many wonderful memories -- 28 years of friendships; those here now and those that that have moved on.
Rita Evans wrote the above farewell as she turned 80 years of age, and decided it was time to relax. Rotary Farewell: January 31, 2020.