Otis Page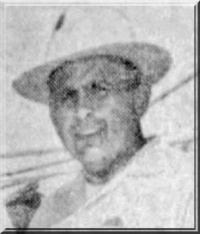 Otis Page, Club President, 1958-1959
Cotton farmer Otis Page, who helped found and lead the community group that fought the expansion of a hazardous-waste facility near Buttonwillow, has died. He was 74.
"He could be ornery and obstinate," said Bakersfield attorney Tom Fallgatter, who represented the residents. "He wasn't afraid to speak his mind. He wasn't a peacemaker or diplomat. He was a spark plug, rallying the troops."
Page, moved to Buttonwillow in 1959 to manage the Farmers Cooperative Gin, lived in the small farming community until 1988, when he moved to Bakersfield. He died Tuesday from heart failure. He had been suffering from Alzheimer's disease.
The Pages lived along Highway 58, which splits the town. In 1985,state and federal environmental officials announced plans to haul truckloads of hazardous waste from
Orange County down Highway 58 to the Laidlaw waste disposal facility near Buttonwillow. Page and several other community community residents organized opposition to the plan, founding a group called Concerned Citizens to Stop Outside Dumping. "The community owes Otis a debt of gratitude for opposing the facility," said Buttonwillow farmer Dennis Palla. "He was a very wise man."
Otis Theodore Page was born March 12, 1921, in Los Angeles. After graduating from high school, he and his father both joined the U.S. Navy to help fight in World War II. They served in the Seabees, the construction unit, and were based in the South Pacific. The elder Page was killed during the war. Otis Page met his wife, Patty, while he was being treated at a veterans' hospital after the war. They were married in 1946.
Page earned a bachelor of science degree in animal husbandry from California Polytechnic State University in San Luis Obispo in 1952.
He managed the Clovis-Sanger Cotton Gin from 1954 until 1959, when he took the job in Buttonwillow.