Mike Hannigan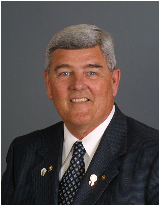 Mike Hannigan, Club President 1998-1999
District 5230 Governor 2002-2003
Mike was born in San Francisco in 1946 and grew up in Antioch CA. After graduating form Antioch High School in 1964 he attended Diablo Valley College for 3 semesters before joining the Army in November of 1965. Mike received advanced infantry training and jump school in Georgia and was assigned to the 1st Cavalry Division June of 1966 to June of 1967. Mike received an early out from the army in 1968 to attend Fresno City College for one year, where he met his wife Sky. Mike and Sky both Transferred to Cal Poly, SLO in 1969. Mike and Sky were married in 1971 returned to San Luis Obispo, where Sky received her teaching credential and Mike a BS degree in Business in 1972.
Mike and Sky moved to Sanger that summer to help manage the family farm, where Sky grew up. They were blessed with their daughter Tylee in 1973 and twin sons John and Ryan in 1975 and currently have 7 grandchildren. Mike went to work for Barr Packing Company in 1979 as Field Staff Manager and Grower Relations and was employed there for 20 years. In 1985 Mike started a farm management company overseeing the family farm and farms of a friend, until they were sold in 2004. Since 2005, Mike has been a Realtor with Guarantee Real Estate in Clovis, CA.
Mike's involvement in the community started with being co-chair of the Stadium Project Group, which put the new lighting in the Tom Flores Stadium, the baseball stadium and the all weather track at the old Sanger High School. After joining both the Chamber of Commerce and Sanger Rotary in 1994, he served as the president of the Chamber of Commerce in 1997 and president of the Sanger Rotary Club in 1998-99. The Club Project that year was the installation of the basketball courts at Madison Elementary School, started in Stan Lovegren's year. Mike was honored to serve as District Governor for the Rotary year 2002-03 and will always remember and appreciate the support he received from the Sanger Rotary club during that year of service.
Bio written and submitted by Mike Hannigan in 2008.