Gary Lyle Ostrander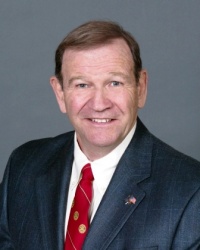 Gary Lyle Ostrander, Club President 2005-2006
Gary Lyle Ostrander was born on Dec. 28, 1938 in The Dalles, Oregon, the closest town with a hospital from Fossil, Oregon where his grandparents had a ranch. His dad worked for the Kinzua Lumber Co. in the neighboring company town where many able-bodied men were employed during the depression. When WWII sucked the U.S. into the maelstrom, Gary's folks moved to the shipyards in Portland and learned how to build battleships almost overnight. His mom was a genuine "Rosie the Riveter", even dangling upside down over the edge of the ship with her burner, riveting away. After the war was over, the Ostranders moved back into the lumber business, then cattle ranching where Gary honed his mechanical and veterinary skills. Gary graduated from Wheeler County High School in Fossil, going on to Oregon State until his junior year. He had always longed to fly, however, and soon found himself joining the Navy and going through the Naval Aviation Cadet program, and the Navy ultimately sent him to Monterey to complete his BA,. He flew hundreds of missions over Vietnam during that conflict, manning the A7 jet aircraft off the USS Oriskany, earning many medals for valor. He retired after 20 years and pursued another dream. He bought a ranch in 1981 in Redmond Oregon, joining with his father in raising cattle. In 1982, Gary joined the Redmond Rotary Club , and he has continued to be an active Rotarian after moving to Sanger, CA in 1987, serving as Treasurer from 1991 to 1994, President Elect in 2004-2005, and President in 2005-2006.
Gary married Simone Gennette on August 24, 1963 at the University of San Diego Immaculata Cathedral. Together they had three children: Noelle, a middle school teacher; Erik, Lowe's distribution manager; and Kirsten, who carried on the family's military tradition serving as an Army helicopter pilot stationed in Bosnia, Korea, and Iraq, earning the Bronze Star for courage under fire in Iraq. There are now four grandchildren, all living in houses that Gary has built himself, aided by son Erik, family and a few subs. One home is in Reedley and the other in Quail Lake.
Gary is at the present time in yet another occupation - driving an 18 wheeler across country with his little dog Chester at his side, hauling everything from California
artichokes to Florida works of art across the country, over the mountains, through the deserts, in heavily populated cities in the North and small villages in the deep South.
Gary is a man of many talents, interests and energies. He has served as a church leader, a mentor to his children and grandchildren, and never stops learning. He once told his children that he believes in going through life with gusto. He's still doing that full bore!
Biography written by Gary on February 14, 2008.