Dr. Fred Alan Burg, 41,
3401 Huntington Boulevard.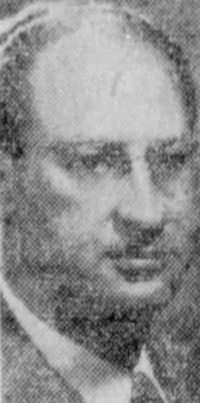 Fred Burg, Club President 1953-1954
Burg died in his home at 6 PM yesterday, about 15 minutes after complaining of pains in his arms and telling his wife,Rosalind, he believed he was having a mild coronary attack. Mrs. Burg called Dr. William Everett Furze. Dr. Burg was dead when the physician arrived a few minutes later. The coroner's office reported death was due to a coronary exclusion.
ExCity Councilman
Dr. Burg had offices in Fresno and Sanger. For three and one half years he was a member of the city council in Sanger. He resigned in 1951 because of poor health. He was one of the organizers of the Fresno Community Theater and was selected
president of the group.
Dr. Burg served as the first president of the Sanger Rotary Club which was organized in 1953. In May he attended the club's international convention in Switzerland.
TV Program Director
He also served for three years on the board of governors of the Fresno County Medical Society. The physician wrote and directed the television program "You And Your Doctor".
A native of Omaha, Neb., Dr. Burg was graduated from the University of Oklahoma medical school. In 1939 he began a four year internship and surgical residency at the Fresno County General Hospital. He served in the army for six months in 1942 and returned to the hospital to complete his residency. In 1943 he started his practice in Sanger.
In addition to his widow, Dr. Burg is survived by a daughter, Cynthia; a son, Alan; his parents, Mr. and Mrs. S. G. Burg of Fresno, and a brother, Morton of Pomona, Los Angeles County.
The Lisle Funeral Home will arrange the funeral.
Source: The Fresno Bee, August 9, 1957 - PAGE 1-B.