ELDRED CRUTCHFIELD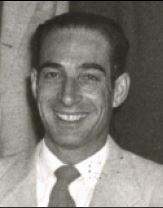 Eldred Crutchfield, Club President 1955-1956
ELDRED CRUTCHFIELD "Crutch" Crutch, a resident of Sanger, CA, passed away February 5, 2003, at the age of 86. He was a retired Electrician for PG&E. He was preceded in death by his grandson, Jason Carr. Crutch is survived by his wife Lorene; his son, Dan Crutchfield of Santa Paula, CA; daughter, Sandra Carr of Saint Helena, CA; sister, Marie Stinnett of El Segudo, CA; brothers, Barry Crutchfield of Yreka, CA, and Allen Crutchfield of Fresno, CA; and grandchildren, Marcos and Tara Carr. Graveside Service will be held at Sanger Cemetery, on Friday, February 7, 2003, at 2:00 p.m. Remembrances may be made to Alzheimer's Foundation of Central California, 4411 N. Cedar, Ste. 102, Fresno, CA 93726.
WALLIN'S SANGER FUNERAL HOMESanger, CA 875-6555
Published by Fresno Bee on Feb. 7, 2003.