Don Vincenti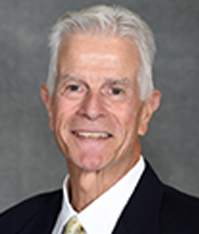 Don Vincenti, Club President, 2001-2002
Don Vincenti was born in 1948 in Chicago where he grew up and attended school. Saint Giles elementary school prepared him for high school at Fenwick and later at Quincy University in Quincy, Illinois where he majored in psychology.
While still in Chicago, Don married his wife Donna in 1975. They moved to Fresno in 1978 and raised three children; Nicole, Marc and Gina. Nicole and her husband Kent are the proud parents of Don and Donna's first grandchild, Graham.
Don's vocation followed the money! He became a stockbroker in 1980, a certified financial planner in 1984 and a branch manager with A.G. Edwards in 1994. When he's not working Don enjoys hunting, fishing, bowling, motorcycles, photography, golf (with a hole-in-one to his credit), and cowboy shooting. He is a darn good cook and also skilled at Shotokan Karate (1st degree Black Belt), so don't criticize his cooking! Currently he is learning to play the guitar.
Family is first and foremost in Don's life. He enjoys all his activities more when his family is with him.
Don also enjoys community activities, a natural link to Rotary. Don is a member of the board of directors for the Outdoor Sportsman's Coalition of California and the Granite Park Kids Foundation. He is a benefactor of the NRA and the Rotary Foundation. He served as a charter president of the Central Valley Society of Certified Financial Planners.
Don joined the Sanger Rotary Club in 1995, served on the Board of Directors and as club president for the 2001-2002 Rotary year. He is also a Paul Harris Fellow.